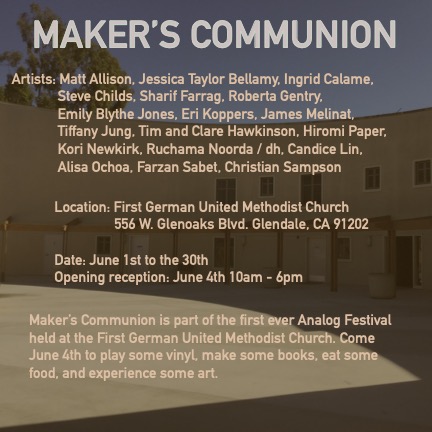 June 4th – June 30th
First German UMC is proud to host local artists' creations for the new exhibit, "Maker's Communion." This art exhibit features original sculptures, paintings, textiles, and installations.
Some examples of exhibit pieces include Roberta Gentry's colorful geometric paintings that echo off the large stain glass mural in the church. Ingrid Calame's rubbings of the congregation's limbs have a contemplative ghostly afterimage. Tim and Clare Hawkinson's vinyl netting crocheted tapestry which hangs over the side of the church. Sharif Farrag's small devil bronze piece reflects the humorous and dark side of scriptures. Alisa Ochoa's video of children celebrating a birthday shares the overall spirit of the exhibition and what the Analog festival is about.
The exhibit begins at the Analog Festival, June 4th 10am – 6pm.