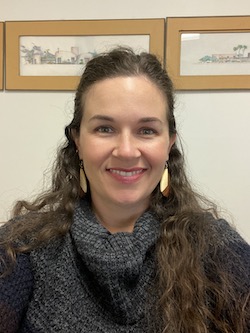 Alicia Emerson serves as the church's office administrator. She is in the office on Tuesday – Thursday from 9am – 2pm.
Alicia earned a Masters of Divinity in Worship, Theology, and the Arts from Fuller Theological Seminary. She also has a Bachelor of Music degree in Vocal Performance from California State University, Northridge. She enjoys singing with the quartet and helping to lead worship on Sunday mornings as well as keeping the office organized during the week.
She has been married to her husband, Nick, since 2005 and together they have 2 kids, 1 dog and 1 hamster.